January 7, 2015
Annexation is the extension of municipal boundaries into adjacent unincorporated areas and the corresponding expansion of city services to those newly incorporated areas. In Illinois, municipal governments have the authority to determine and expand their boundaries, subject to the provisions of the Illinois Municipal Code.
In a recent report, the Civic Federation began to identify reasons why Cook County's unincorporated areas have not been incorporated into surrounding municipalities. The report proposes preliminary recommendations on ways to facilitate incorporation.
Annexation of unincorporated areas to a municipality can be controversial. There are a number of political, economic, quality of life and identity arguments made in support of and opposition to annexation, which have been summarized in a previous blog. There are also problems and potential benefits to consider if incorporation is pursued, which have been discussed here.
There are four requirements that must be fulfilled for annexation of unincorporated properties to a municipality in Illinois:
The territory must be unincorporated.
Approximately 2.4%, or 126,114 of Cook County's 5.2 million residents live in unincorporated areas. These areas account for 13.1% of the County's total land area and are scattered across the County. (Of that land area, 60.26% is located within a forest preserve.)
The territory must be contiguous to the annexing municipality.
The image below shows unincorporated area in Leyden Township that is contiguous to the municipalities of Franklin Park, Northlake and Melrose Park. Each of these municipalities could annex unincorporated area parcel by parcel, so long as the new land remains contiguous to the municipality.
Proper notice must be given to fire protection and library districts with jurisdiction over the territory to be annexed if they are providing service to that territory.
For example, unincorporated areas of Northfield Township are served by the Northbrook Rural Fire Protection District. If these areas were to be annexed by a neighboring municipality, the Trustees of the District would need to be notified in writing by certified or registered mail 10 days in advance of any court hearing or other action taken regarding annexation. This annexation would result in automatic disconnection of the area from the Fire Protection District. There are procedures by which disconnection can be contested and fire protection districts may also negotiate an agreement to receive diminishing tax revenues over a number of years.
Similarly, a municipality may consider creating a district separate from its municipal borders to provide a specific service. For example, in Elk Grove Village residents of unincorporated areas have to pay a nonresident fee of $200 to obtain a library card. An Elk Grove Village Library Trustee has proposed forming a new library district that would include Elk Grove Village and the unincorporated areas that are part of the Elk Grove Rural Fire Protection District. Instead of the library receiving support via general municipal revenues, a special property tax would be imposed for residents of this new library district.
The new boundary of the annexing municipality as it is described in the annexation petition must extend to the far side of any adjacent highway and must include all of every highway within the area to be annexed. [1]
The image below shows unincorporated area bordering Interstate 57 in Bremen Township. If either Oak Forest or Markham were interested in annexing unincorporated area abutting the highway, it would also need to include the section of interstate adjacent to that unincorporated area.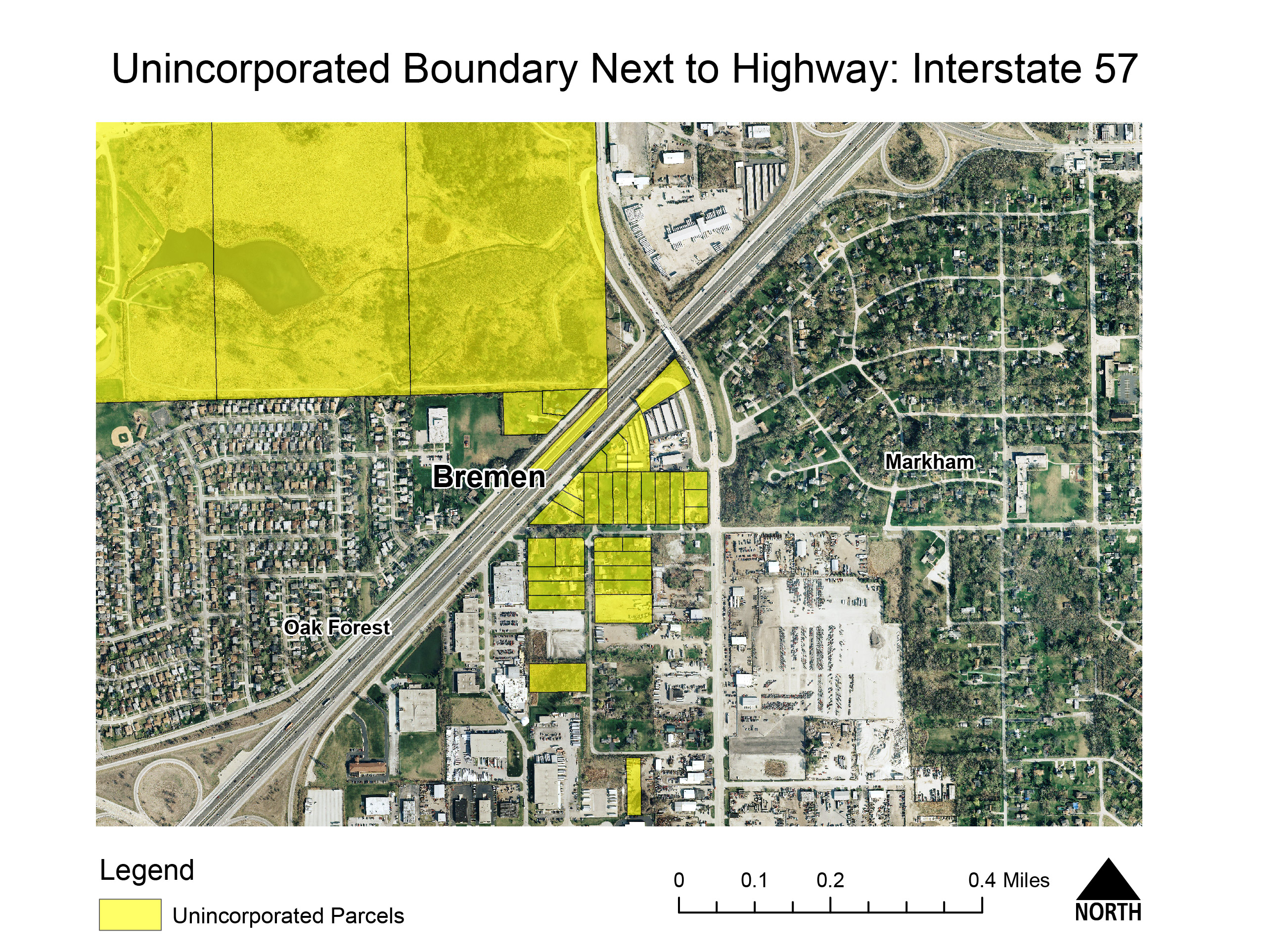 Unincorporated areas can be annexed to an adjoining municipality in several different ways:
Voluntarily, with the support of property owners and voters;
With court supervision in situations without unanimous support; and
When the municipality proactively seeks involuntary annexation of territory less than 60 acres.
More detail on these methods can be found in the Civic Federation's Unincorporated Cook County report.
---
[1] Stewart H. Diamond and Julie A. Tappendorf. Municipal Annexation Handbook. (Chicago: Ancel Glink, 2012 edition), p. 8.