June 9, 2016
The Illinois General Assembly ended its regular spring session on May 31, 2016 without passing a budget for the upcoming fiscal year. The legislature now has less than one month to complete a budget for the year that begins on July 1, and passage has become more difficult.
After the end of May, a three-fifths vote of both the House and Senate—instead of a simple majority—is needed for a bill to take effect immediately. A simple majority will again be sufficient at the beginning of the 2017 calendar year.
As discussed here, the General Assembly's failure to approve an FY2017 budget was not surprising, given that Illinois still does not have a complete budget for FY2016. The deadlock stems from a political dispute between Illinois' Republican Governor and Democratic legislators who control the General Assembly.
Democratic leaders have pushed for a bipartisan agreement on additional revenues to help close the budget gap caused by the partial rollback of temporary income tax rate increases in January 2015. Governor Bruce Rauner has said he would only agree to higher taxes in conjunction with passage of key elements of his Turnaround Agenda, which is intended to make Illinois more appealing to businesses.
Governor Rauner's proposed FY2017 budget, issued on February 17, had a General Funds operating deficit of at least $3.5 billion. To close the gap between revenues and expenditures, the Governor said lawmakers could either agree to elements of the Turnaround Agenda, in which case spending could reach $36.3 billion, or grant him broad authority to make cuts, resulting in spending as low as $32.8 billion.
During the spring, lawmakers participated in bipartisan budgetary working groups created by the Governor. On May 25, after indicating that the talks related to the Turnaround Agenda were not going well, House Speaker Michael Madigan introduced his own spending plan for FY2017, which passed narrowly in the House that same day. Senate Bill 2048, House Amendment 2 was not accompanied by new revenue, and the Rauner administration said it was out of balance by approximately $7.5 billion.
The Senate rejected the House budget bill on May 31 but passed House Bill 2990, Senate Amendment 2, an FY2017 appropriation bill for preschool to secondary education. That measure was voted down by the House in the final hours of the session.
After initially turning down the idea of a short-term budget for FY2017, Governor Rauner proposed a six-month spending plan on May 31, along with a separate full-year P-12 education appropriation bill. The stopgap measure would not require additional revenue and does not include elements of the Turnaround Agenda. The legislature did not immediately consider the Governor's plan but referred it to a working group.
Before adjourning, the House and Senate adopted a resolution to remain in continuous session and Speaker Madigan said the House would meet every Wednesday in June. The first Wednesday session, on June 8, was cancelled while the working group negotiated on the Governor's plan, according to Speaker Madigan.
Education funding has been a major sticking point in the negotiations. In presenting his recommended FY2017 budget in February, Governor Rauner asked the legislature to pass a "clean" appropriation bill for P-12 education—with no unrelated provisions—before working on a comprehensive budget plan so that public schools could open on time. The budget impasse in FY2016 did not affect the schools because the Governor signed an education appropriation bill despite rejecting other portions of the General Assembly's out-of-balance budget last year.
Democrats have been pushing for school funding changes that would bring more money to the cash-strapped Chicago Public Schools (CPS) and other school districts with heavy concentrations of low income students. They also want to bring State funding for Chicago teachers' pensions more in line with State pension contributions for teachers outside of the City of Chicago.
In FY2016 the State is scheduled to make contributions of $3.7 billion to the Teachers' Retirement System (TRS), which covers teachers outside of Chicago, while paying $12.1 million for Chicago teachers' pensions. This year CPS served 393,112 students, or 19.2% of the State's total 2.0 million.
The following table compares education funding levels in FY2016 and the Governor's recommended FY2017 budget with amounts proposed recently by the House, the Senate and the Rauner administration.
The table shows appropriations from General Funds and from a new account called the Fund for the Advancement of Education. Since February 2015, 1/30 of net income tax revenues from individuals, trusts and estates has been diverted from General Funds into this account to be used for education.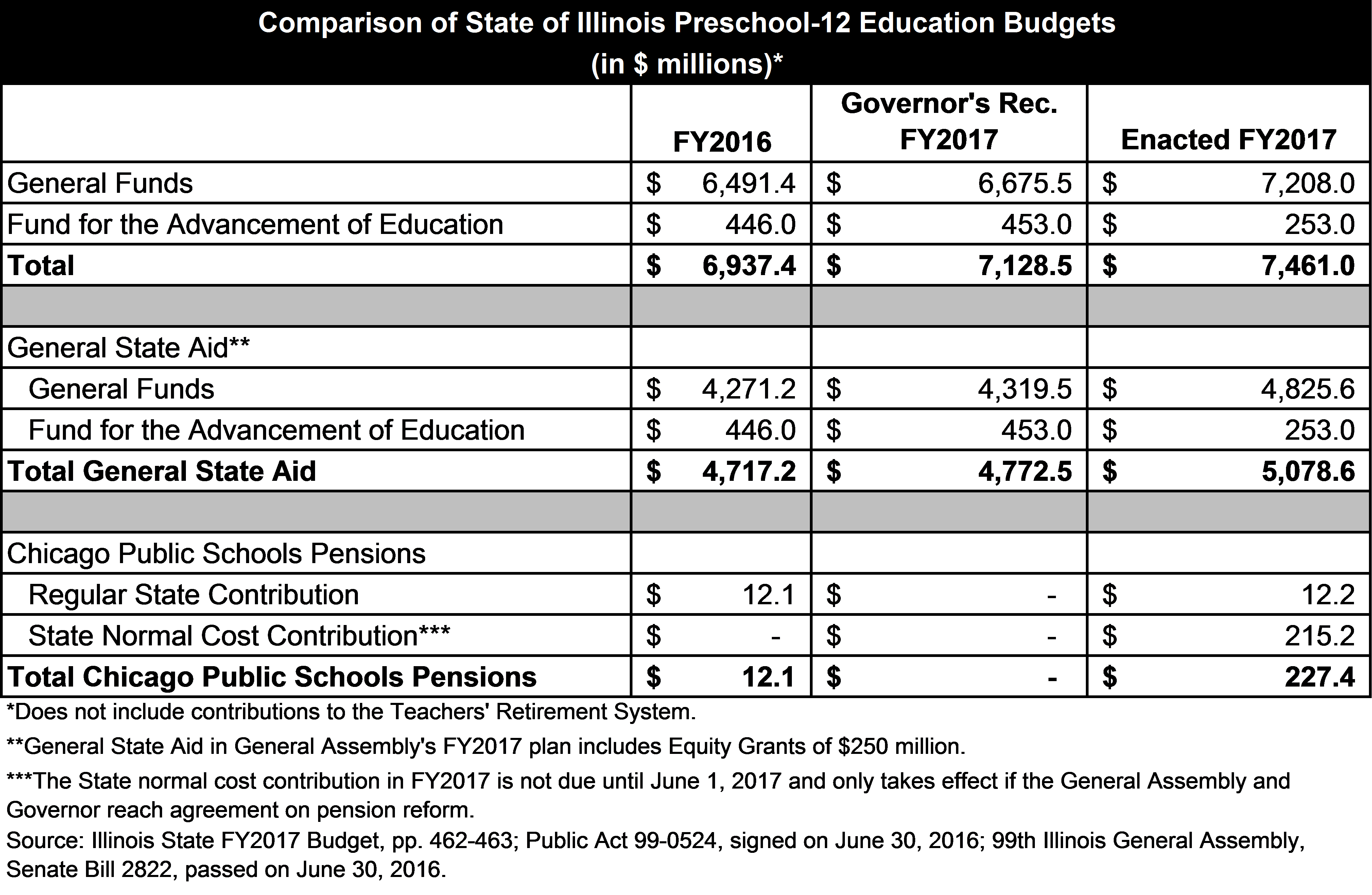 In his recommended FY2017 budget, Governor Rauner proposed that General State Aid (GSA), the State's main spending program for elementary and secondary education, be increased by $55.3 million to $4.77 billion from $4.72 billion in FY2016. GSA payments are based on a Foundation Level of funding, which is established by statute and represents the minimum per child amount of financial support that should be available to provide for the basic education of each student. GSA is designed to help fill the gap between the Foundation Level and the amount a school district can provide from local property tax revenues and other local resources.
The Foundation Level has been unchanged since FY2010 at a per pupil amount of $6,119, but the amount of GSA funding since that time has been inadequate to fully pay for the Foundation Level. The percentage of Foundation Level funding (known as proration) ranged from 87.1% in FY2015 to 99.9% in FY2011 and stood at 92.1% in FY2016. Despite the modest increase in GSA in the proposed FY2017 budget, the amount would be sufficient to fully fund the Foundation Level for the first time in seven years. However, one-third of the State's 852 school districts would lose money under the current formula, including an estimated loss of $74.4 million, or 7.7%, for CPS.
House Bill 6583, the Governor's new FY2017 education appropriation bill, has GSA of $4.88 billion, an increase of $104.8 million from the previously recommended amount and $160.1 million from FY2016. The increase is intended to ensure that no school district would get less money next year than this year.
The Senate education bill and the education portion of the House spending bill provide additional funding for low income school districts. GSA would increase to about $5.48 billion in each of the plans, which is approximately $600 million higher than the Governor's new proposal.
In addition, the General Assembly plans include State pension contributions for Chicago teachers, while neither the Governor's recommended FY2017 budget nor his revised proposal have any money for CPS pensions. The House bill (Senate Bill 2048, House Amendment 2) includes the regular State contribution of $12.1 million and an additional $100.0 million to cover part of the normal cost (current service cost) of Chicago teachers' pensions. The Senate bill (House Bill 2990, Senate Amendment 2) covers all of the $205.4 million normal cost. The State pays about $800 million in normal costs for TRS pensions.
In the absence of a complete budget plan that funds all areas of State spending, it is difficult to see what level of education funding the State could afford without new revenue or significant cuts to other areas of the budget.