Dec. 5, 2019: Dorval R. Carter, Jr. to Receive Motorola Solutions Foundation Excellence in Public Service Award presented by the Civic Federation
Thursday, December 5, 2019 - 8:00am
Fairmont Chicago
International Ballroom
200 North Columbus Drive
Chicago, Illinois 60601
Reception: 8 a.m.
Breakfast and Program: 8:30 a.m.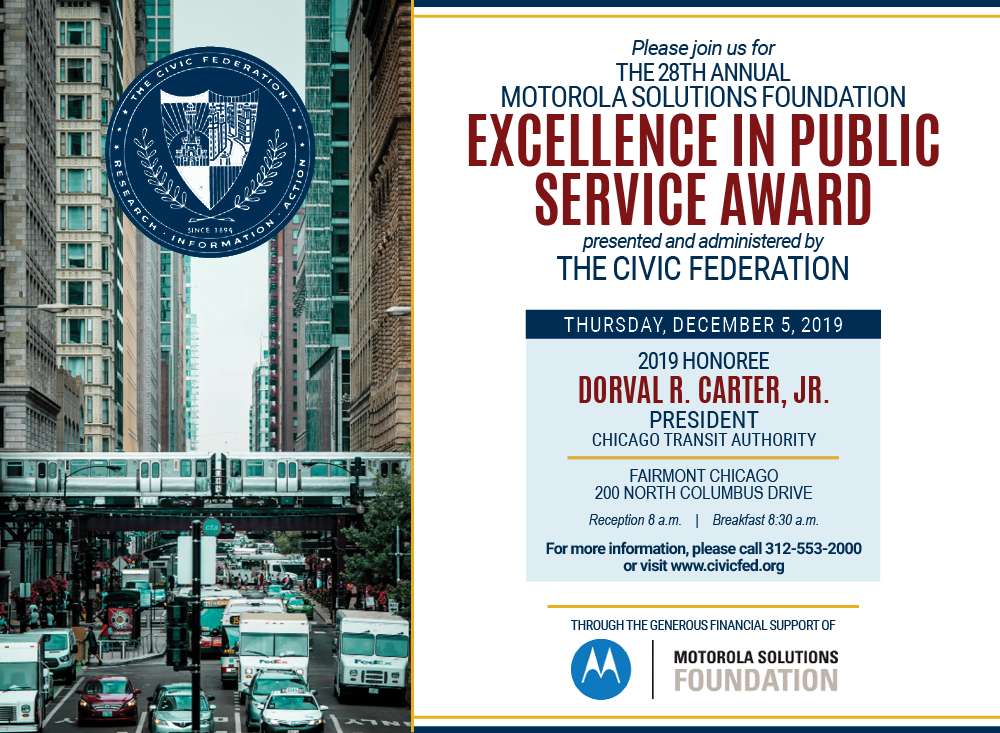 The Civic Federation is pleased to announce that Dorval R. Carter, Jr., President of the Chicago Transit Authority, will be the 2019 Motorola Solutions Foundation Excellence in Public Service Award honoree. President Carter has more than 30 years of experience in public service, both at the local and federal level. In his current role, he is responsible for the nation's second-largest transit agency, which provides approximately 1.5 million rides on an average weekday and serves the City of Chicago and 35 surrounding suburbs.
Overseeing more than 10,000 employees, President Carter carries out CTA's mission of delivering quality, affordable transit services that link people, jobs and communities. Previously, President Carter served as the Acting Chief of Staff to U.S. Department of Transportation Secretary Anthony Foxx, managing a department with more than 55,000 employees and a $70 billion budget that oversees air, maritime and surface transportation.
This year's award breakfast will be held on Thursday, December 5 at the Fairmont Chicago, 200 North Columbus Drive, Chicago, beginning with a reception at 8 a.m.
For more information or to RSVP to the awards breakfast, please contact Rina Tsang of PJH & Associates at 312-553-2000 or click here.
Communication Access Realtime Translation (CART) services will be available. Please indicate any additional special accommodations needed via RSVP or contact Rina.