February 14, 2013
Even though the Illinois General Assembly recently appropriated an additional six months of funding for State group health insurance, unpaid bills relating to the program are expected to increase by more than $200 million to $1.6 billion by the end of the current budget year.
The legislature appropriated an additional $550 million in general operating funds for employee and retiree health insurance in FY2013 as part of a supplemental appropriations bill that was signed by Governor Pat Quinn on February 7, 2013. The bill also provided approximately $52 million in other General Funds appropriations, including $12 million for mental health services and $25 million to prevent layoffs at the Department of Children and Family Services.
As discussed here, the supplemental appropriation for group health insurance was expected because the budget for the current fiscal year, which ends on June 30, 2013, funded only approximately half of the State's projected costs for employee and retiree health insurance. Legislators have said that they appropriated half a year's funding last spring to help the Governor's Office win concessions on health benefit costs in negotiations with labor unions to replace contracts that expired at the end of FY2012.
Seven months into FY2013, new contracts have not been signed and unpaid group health insurance bills are piling up. As a result of insufficient funds, some doctors are still waiting for payment from the State on claims submitted more than 11 months ago.
But the additional $550 million will not completely solve the funding problem. The Governor's recommended FY2013 General Funds appropriation for group health insurance of $1.17 billion was already well below the FY2012 appropriation of $1.4 billion. The Governor's recommendation had already assumed as much as $350 million in savings on employee and retiree health insurance due to benefit reductions or premium increases to be agreed to by labor unions.
The savings projection was partly based on a retiree healthcare reform measure that went into effect at the beginning of FY2013. Before the new law, State employees who retired before January 1, 1998 and those who retired after that date with at least 20 years of service were not required to pay health insurance premiums. Exceptions included General Assembly members, who could retire with as few as four years of service and not pay any premiums, and judges, who could retire with as few as six years of service and not pay premiums.
As a result, approximately 90% of the more than 80,000 retirees covered by the State's group insurance program did not pay any health insurance premiums as of January 2011. The State's cost for retiree health insurance coverage in FY2013 was projected at $684.3 million, while retirees' contributions were estimated at $25.8 million. These figures do not include the cost of coverage for retirees' dependents; all retirees are required to pay premiums for their dependents.
In June 2012, Illinois enacted legislation that eliminated premium-free health coverage for retirees. The legislation did not specify how retiree health insurance premiums would be determined, leaving that decision to the State's Department of Central Management Services (CMS). CMS has said that retiree premiums, like other healthcare benefits, will be negotiated with the State's unions. Premiums are expected to be based in part on retirees' pensions, with those receiving larger pensions required to pay higher premiums. CMS' decisions on premiums will be subject to review by the General Assembly's Joint Commission on Administrative Rules.
CMS has not yet proposed rules relating to retiree health insurance premiums. Health insurance premiums for employees and retirees are a key issue in ongoing negotiations over union contracts to replace agreements that expired at the end of FY2012. The State's largest union, Council 31 of the American Federation of State, County and Municipal Employees (AFSCME), is reportedly considering a strike due to health insurance premium increases demanded by the Governor's Office. Meanwhile, a lawsuit filed by AFSCME and other unions to overturn the new retiree health insurance law is pending in Sangamon County Circuit Court.
Because the contract issues have not yet been resolved, it is now projected that the FY2013 General Funds appropriation of $1.1 billion will be $218 million less than the amount needed to fully fund the annual cost of group health insurance. Any unfunded costs will add to the State's backlog of unpaid bills. Unpaid health insurance bills grew to $1.4 billion in FY2012 and are projected to increase by $218 million in FY2013 due to the funding shortfall, according to the Governor's Office of Management and Budget.
The total annual cost of group health insurance has not been reflected in the State budget due to a provision of Section 25 of the State Finance Act that allows group health insurance bills, like Medicaid bills, to be paid from future years' appropriations. As shown in the next chart, Section 25 deferred liabilities relating to group health insurance have increased from $93 million at the end of FY2007 to a projected $1.6 billion at the end of FY2013.(Click to enlarge.)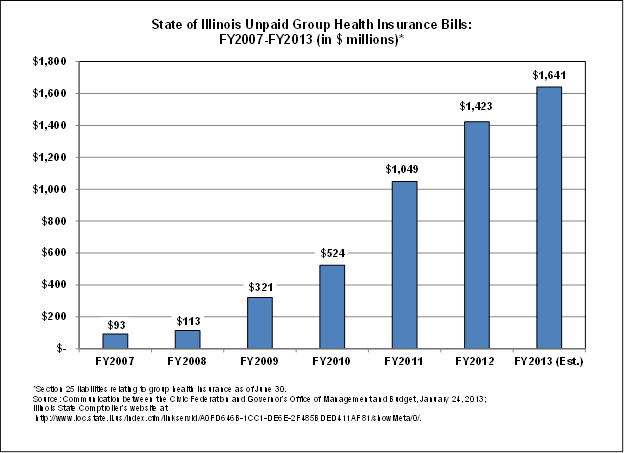 Unpaid group health insurance bills rose sharply starting in FY2009, when deferral of Medicaid bills began to be restricted by federal stimulus legislation. A new law that imposes limitations on the deferral of Medicaid bills does not cover health insurance bills.