February 1, 2013
State bond funding for infrastructure projects in Illinois is running out after a $500 million issuance was pulled from the market earlier this week. The bond sale was cancelled due to concerns about higher than expected interest rates from bidders on the competitive issuance in the wake of the State's bond rating downgrade on January 25, 2013.
Although the State has issued more than $5.0 billion in capital purpose General Obligation bonds (GO bonds) since the Illinois Jobs Now! capital program was approved in FY2010, only $82.1 million in bond proceeds remain to pay for ongoing State-funded capital projects. The General Assembly authorized a $22.7 billion capital budget for FY2013 that included $10.8 billion worth of projects waiting to be funded by GO bonds. Since the fiscal year began on July 1, 2012, the State has spent a total of $1.4 billion of previously sold capital GO bonds, according to records available on the State of Illinois Comptroller's website.
The following table shows the annual proceeds from GO bonds sold by the State from FY2010 through FY2013 (year to date), compared to the remaining funds in each account as of January 30, 2013. (Click to enlarge.)
The next table shows the State funds that are used to hold proceeds from capital GO Bond sales and the type of spending that each fund supports.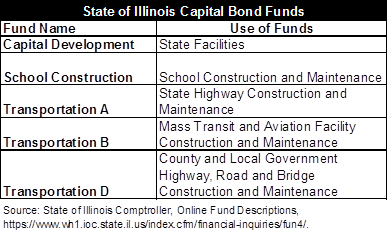 As discussed here, there is little transparency regarding the actual use of the funding that has been approved for infrastructure as part of the ongoing State capital budget due to the lack of a comprehensive capital improvement plan (CIP).
Since FY2005 the Governor has proposed an annual capital budget that is separate from the State's operating budget due to the longer-term nature of the capital appropriations which often take several years to complete. The first significant increase in capital spending by the State in almost a decade was approved in FY2010 and included $16.0 billion in new projects to be funded by State-issued GO bonds. According to the Governor's proposed FY2013 capital budget, the State needed to sell $1.3 billion in capital GO bonds to support the ongoing capital spending through the end of the year. As shown in the table above, the State has only issued $53 million of GO bonds in FY2013. It is unclear when the State will schedule its next bond sale or how much longer capital projects can continue as balances in these funds are depleted.
The State capital budget also receives significant annual funding from the federal government, local matching funds and pay-as-you-go funding from taxes and fees deposited in the Road Fund. However, projects to be funded by State issued GO bonds made up roughly half of the $31-billion in total capital appropriations originally approved in the Illinois Jobs Now! program and are the largest portion of remaining projects in the capital budget.